https://pbs.twimg.com/media/DcwsfrKXcAALl3F.jpg
German defender Robert Huth won two Premier League titles during his time as a Chelsea player. He had played for local teams VfB Fortuna Biesdorf in East Germany and the youth teams at capital club Union Berlin before he was signed by Chelsea in 2001.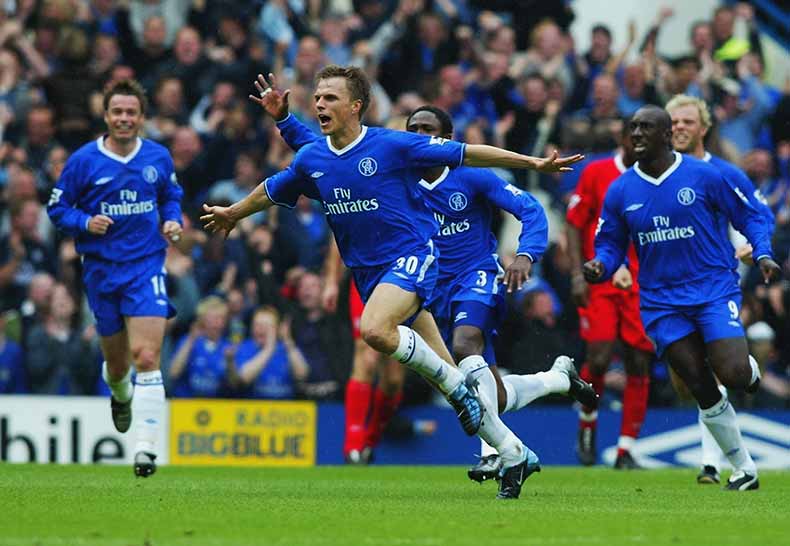 Robert Huth made his professional debut for Chelsea on the final day of the 2001/02 season. He came on for winger Jesper Gronkjaer during the halftime interval of the home game against Aston Villa which ended in a 3-1 win for the visitors. Reading wanted to sign Huth on loan ahead of the 2003/04 season before the move was blocked by Chelsea.
The German centre back went on to make 20 appearances for Chelsea during that seasonas he expressed his intention to stay with the Blues. In the following season, injuries limited Huth to 15 appearances and this was enough for him to land the first of his three Premier League titles. Chelsea won the Premier League title that season with just one defeat.
Robert Huth won the second and final Premier League title of his career at Chelsea in the 2005/06 season as the Blues were able to win a second straight league title. His path to a regular first team football was blocked by the trio of Ricardo Carvalho, William Gallas and club skipper John Terry under the first managerial reign of Jose Mourinho at Stamford Bridge.
Huth stated that he was not satisfied with his lack of playing time at Chelsea in the summer of 2006 and this prompted the three clubs to make an attempt to sign him. Everton, Wigan Athletic and Middlesbrough all tried to sign him. In the end, Robert Huth opted for Middlesbrough as the German defender revealed that he would be signing for the club at the end of the 2006 FIFA World Cup tournament in Germany. Middlesbrough sealed a £6m for Huth later that summer.